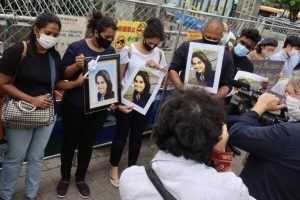 SNA (Tokyo) — During a May 30 demonstration in front of central Tokyo's JR Takadanobaba Station, my labor union, Tozen Union, called upon the Japanese government to overhaul its immigration system and to protect the human rights of foreigners.
We persisted despite a heavy downpour, joined by the two younger sisters of Wishma Sandamali, a 33-year-old Sri Lankan woman who died after medical neglect in a Nagoya immigration detention center.
Wayomi Rathnayake called on the Immigration Bureau to release all video, documents, and information related to her sister's death. Japan's immigration bureaucracy has a history of opacity and arbitrary treatment of foreigners. We demanded that the government guarantee foreigners' right to life, regardless of visa status. We must not accept valuing some lives less than others, due to flukes of fate that determine citizenship and residence status.