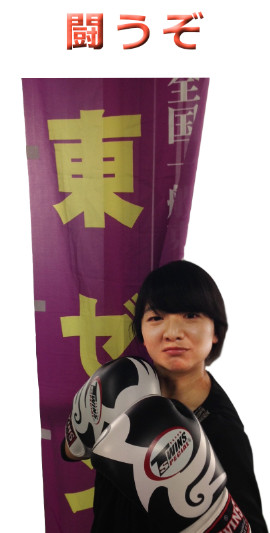 執行委員長からのメッセージ
こんにちは。私は、東ゼン労組の執行委員長である奥貫妃文です。あなたが東ゼン労組を知ってくれたこと、関心をもってくれたこと、とてもうれしく思います。
今の時代において、「労働組合」の存在意義とは何でしょうか。現在、経営者、ときには政府も一緒になって、ありとあらゆる手を使って、労働者の労働力を安く買い叩こうとしています。「グローバル化の推進」と言いながら、実際にやっているのは、労働者の間に序列をつけて、ほんの一握りの〝優秀な労働者〟にだけ高収入を保証し、それ以外の圧倒的多数派である〝普通の労働者〟に対しては、際限なき労働条件の悪化と不安定化を押し付けようとしています。経営者たちは、労働者間で職場で生き残るための醜い競争をさせて、それを雲の上から眺めてせせら笑っているかのようです。
こうした動きに対して、労働者ができることはなんでしょうか。答えはひとつ。とてもシンプルなことですが、労働者の間で競争するのではなく、あらゆる職場、あらゆる職種。あらゆる雇用形態の労働者が団結をすることです。具体的には、あなたの職場の隣の席で仕事をする同僚のことを、ライバルとしてではなく仲間としてみることです。そして、労働組合とは、あなたの労働条件ではなく、まずは隣の仲間の労働条件を改善するために、あなた自身が行動するための場所です。「なんで私が人のために・・・」と思うかもしれませんが、このような労働組合の力が真価を発揮したとき、確実にあなたの労働環境も良くなっているはずです。
東ゼン労組は、組合員一人ひとりが方針を決め、民主主義的プロセスを徹底させて運営しています。東ゼン労組は、現在21カ国の国籍の組合員がいて、言語や慣習の違いから争いになることもしばしばありますが、そのときには、お互いを尊重しながらとことん話し合います。そしてもし、あなたが組合内でトラブルや悩み事を抱えたときには、規約審査委員会にただちにうったえることができます。
東ゼン労組は、あなたの力を必要としています。あなたが東ゼン労組で労働者の権利を守り、より大きく広げていくためにさまざまなアクションを起こしてくださることを、心から願っています。
 全国一般東京ゼネラルユニオン(略称「東ゼン労組」)
執行委員長
奥貫 妃文
---
Hello. I am Hifumi Okunuki, executive president of Tozen Union. I am delighted you are interested in our union.
What is the raison d'être of a labor union in this day and age?
Government and management joining forces to drive down the cost of labor using any means necessary.
Under the banner of "globalism," they create a hierarchy among workers, granting super high wages to a select few supposedly outstanding workers while devastating the working conditions and breaking the back of job security for all the rest. Management floats above their employees, forcing them to engage in ugly and counterproductive competition with each other just to survive.
What can workers do to oppose this? There is only one answer: shun all forms of competition and stand shoulder to shoulder in solidarity with workers of all stripes in all workplaces. Being in a labor union means you do what you can to improve working conditions for the worker working right next to you rather than for your own sake. Some may wonder why they must fight for others, but when the union functions properly your work environment will improve as well.
Tozen Union is run by a thoroughly democratic process, with our individual members deciding all policy. Tozen members hail from over 20 countries with different languages and customs. We have spats and quarrels, yet we always talk it out based on mutual respect. If you have serious trouble or problems within the union please don't hesitate to contact the Constitutional Commission.
Tozen Union needs your strength. I urge you to do everything you can to expand the rights of workers in Tozen Union.
Hifumi Okunuki
Executive President
Zenkoku Ippan Tokyo General Union (Tozen Union)