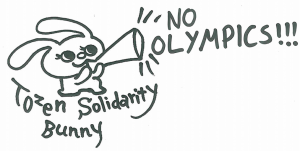 As a labour union we fight for workers' rights, and worker safety. And the Tokyo Olympics has had numerous counts of worker deaths and injuries, and workers have reported a "culture of fear" that discouraged them from making complaints about working conditions.
Another major reason that we do not support the Olympics is that the world is currently in the midst of a global pandemic. Corona cases in Japan have been constantly rising and dropping, and with no large-scale vaccination in sight, going ahead with the olympics would be an unnecessary risk to all.
Other reasons that we oppose the Tokyo Olympics are:
Financial costs

Loss of homes

Reports of corruption and bribery

The militarisation of the police

Unsafe temperatures.