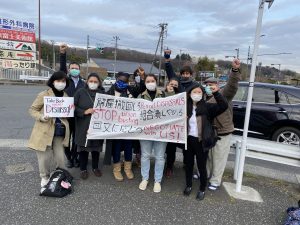 A new Tozen Union local called TWIST (Tokyo West International School Tozen) held a protest on the afternoon of Tuesday March 9 at Tokyo West International School. Teachers at this Hachioji, Tokyo school gathered to protest the recent unfair dismissals of union members. They had declared their new union in late January of 2021, because many worked overtime without pay, lacked breaks, had fewer days of paid leave, and faced a general lack of support and disorganization in the workplace.
The union had just one collective bargaining session with management before the school decided to dismiss several members on February 19. 
"We had a great meeting with management explaining our demands," one member said. "We were open, honest and thought management had listened to our concerns. We wanted to work together to improve our work environment. Now we feel disappointed that many of our members were dismissed in retaliation for forming a union. Management rejected our pleas to reverse the dismissals before the March 8th deadline we set. We want to make others aware of the situation. Talented teachers are being dismissed without cause, and we want to prevent that from happening now and in the future." 
TWIST members struck during the protest and handed out flyers explaining what the school is doing and why the union is protesting. The flyer also included a link to the Tozen Union website (tozenunion.org) and Twitter page handle. During the action, TWIST Executive President Taylor Healy shouted through a megaphone: "TWIS has taken unethical and unjust action against union members. TWIS admin are attempting to union bust. This misconduct must be stopped. Reinstate union members. Save our teachers!" Before and during the protest, management asked union members to stop striking and leafleting, and redirected students away from members.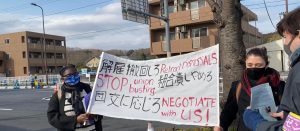 Parents approached union members, expressed their support in the movement and wished them luck. Teachers received many supportive messages from non-union staff members at the school as well as from students and parents. TWIST union is glad to see the message of injustice against teachers coming across and to receive so much encouragement. However, members see a long fight ahead of them. 
After the protest, parents received an email from management stating, "We firmly believe that our school has been taking sincere actions, and we continue to work to peacefully resolve any concerned matters." Management is stonewalling on holding collective bargaining with the union, and we have yet to receive a written response to demands. The day after the protest, management sent an email to all staff members of the school, apparently directed at staff who did not protest. The message offered teachers free tapioca tea in appreciation. There is no amount of tea they can offer that will make up for the unfair dismissals. Reinstate our members. Negotiate with the union.
For more details on TWIST union demands; follow this link: https://tozenunion.org/twist/